IBPS RRB Notification 2020: There is good news for all those banking aspirants who missed their application form for IBPS RRB recruitment 2020. The application form has been decided to reopen for both Officer Scale-I and Clerical Cadre posts and will be active from 26th October 2020 to 09th November 2020. The last date of eligibility, in terms of educational qualifications, has also been changed to 09/11/2020 giving an opportunity to the candidates who completed their education in the lockdown. An increase in vacancies has also been announced in the notification for both IBPS RRB PO & Clerk 2020 recruitment. The interested candidates must grab this opportunity and get a chance to get selected on their dream job. Stay tuned with us for more updates on IBPS RRB 2020.
Who can apply for IBPS RRB 2020 Re-opened Registration?
This process is only for the following categories of applicants.
1. Who attained the eligibility in terms of educational qualifications by 09.11.2020.
2. Who could not register successfully from 01.07.2020 to 21.07.2020.
IBPS RRB 2020: Important Dates
These exam dates are tentative and can be modified by the authority anytime if required.
On-line registration including Edit/Modification of Application & Payment of Application Fees/Intimation Charges- 26th October 2020 to 09th November 2020
Online Examination – Preliminary Officers Scale-I – 31st December 2020
Office Assistant (Multipurpose)- 02nd January 2021/04th January 2021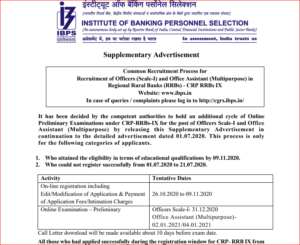 IBPS RRB 2020: Revised Vacancies
There has been an increase in the total no. of vacancies for IBPS RRB 2020 exam as per the new notification released by the officials. The candidates who were preparing for IBPS RRB recruitment 2020 have a golden chance to prove themself this year. The vacancies have been increased for Office Assistant and Scale-I recruitment, which have been mentioned in the below table.
| Posts | Revised Vacancy | Old Vacancy |
| --- | --- | --- |
| IBPS RRB Office Assistant (Multipurpose) | 5076 | 4682 |
| IBPS RRB Officer Scale -I | 4201 | 3800 |
| IBPS RRB Officer Scale-II (Agriculture Officer) | 100 | 100 |
| IBPS RRB Officer Scale-II (Marketing Officer) | 08 | 08 |
| IBPS RRB Officer Scale-II (Treasury Officer) | 03 | 03 |
| IBPS RRB Officer Scale-II (Law) | 26 | 26 |
| IBPS RRB Officer Scale-II (CA) | 26 | 26 |
| IBPS RRB Officer Scale-II (IT) | 59 | 59 |
| Officer Scale-II (General Banking Officer) | 838 | 838 |
| Officer Scale – III | 156 | 156 |
| Total | 10,493 | 9,698 |
Check IBPS RRB 2020 Official Notification
New Eligibility Criteria for IBPS RRB PO and IBPS RRB Clerk 2020
IBPS has made a slight change in the "as on date" of the educational qualification eligibility to allow candidates who have graduated post lockdown to apply for this RRB recruitment process. Rest of the eligibility criteria remains the same for both Office Assistant and Officer Scale-I recruitments. The following is mentioned in the official notification-
"The last date of eligibility, in terms of educational qualifications is changed to 09.11.2020. For other terms and conditions, candidates are requested to refer to the Detailed Advertisement of CRP-RRBs-IX dated 01.07.2020. Revised Vacancies as received up to 21.10.2020 have been updated in the detailed advertisement on IBPS authorised website"