Ration Card Jharkhand | Aahar Jharkhand | Ration Card Jharkhand Apply Online | Ration Card BPL List 2019-20 | Ration Card Status Check, Jharkhand Ration Card Online Form, and eligibility all these Ration Cards Jharkhand's topics have been covered here.
Let's have a look at them one by one.
Ration Card Jharkhand | Aahar Jharkhand
Ration Card Jharkhand is a government-provided legal document which can be used multi-purposely. One of the major benefits of having a Ration Card in Jharkhand is you can avail the facility of subsidized rate food commodities, fuels, and grains from the Jharkhand Government.
A ration card can also be used for a reference document while you are applying for a domicile certificate or income certificate in various states of India.
Department of Food, Civil Supplies & Consumer Affairs of Government of Jharkhand also called (Aahar Jharkhand) issues Ration Card to the citizen of Jharkhand state.
Reasons for Obtaining Ration Card in Jharkhand
It can be used as proof of residence while selling or buying a land/ property.
It is also required to claim a loan from the banks.
Ration card helps as an identity proof for the citizens.
To avail government services at a subsidized rate for the eligible beneficiaries food frains, edible oils and fuels
Ration Card supports as an identification proof for your entire family since it contains details about the number of family members, income levels, number of children, gender, photographs, etc.
Types of Ration Cards in Jharkhand
These types of Ration Cards are applicable and available in Jharkhand –
1. APL Ration Card – It's a yellow-coloured Ration Card and given to those families coming above the poverty level.
If you hold an APL Ration Card then you are not authorized for getting subsidized rates on governmentally provided food commodities.
2. BPL Ration Card: It's a white cloured Ration card. Families having an annual income of less than Rs. 150,000 comes under this category of Ration Card in Jharkhand.
This type of ration card is issued to the people living below the poverty line. In other word, people or families who are poor can get this card. Subsidized rate food commodities are available for Jharkhand BPL Ration cardholders.
3. Antyodaya Anna Yojana (AAY) Cards: It's a pink-coloured Ration Card. This type of ration card is issued to the economically weakest section of the societies. Landless labourers, marginal farmers, artisans, craft men, widows, terminally ill persons, etc. are covered under this scheme. They can easily avail the subsidized rates of food in Jharkhand.
4. Annapurna Yojana (AY): It's a green-coloured Ration card. Under this scheme, a destitute person with more than 65 years of age having no source of income and not availing the benefit of national Old Age Pension or State Pension Scheme are entitled to 10 Kg of food grains free of cost every month.
Ration Card Jharkhand Eligibility Criteria
To check whether you are eligible or not for the Ration Card in Jharkhand have a look at the eligibility criteria provided below.
You should be a permanent citizen of Jharkhand

You must qualify the income criteria for APL & BPL

The applicant must not be the possession of a Jharkhand Ration Card

Keep you Income certificate ready to show you APL/BPL status

If you are a newly married couple in Jharkhand you can apply for a new ration card. In this instance, Surrender certificate is required from the previous place of residence, issued by the District and Block level Supply officer.
For Annapurna Yojana, you must be greater than 65 years old and must not have any active income source.

If you have a new family member i.e birth of a child then you can apply for Ration Card for the newly born member. It is like adding a new name in the old list.
Documents Required for Ration Card Application in Jharkhand
Here is the list of documents to get a new ration card in Jharkhand or for Ration Card Jharkhand online apply –
Address Proof – Aadhar Card, Residential certificate, Water, Electricity or Telephone Bill
If on rent – Rent Receipt
In case of transferring from one Town or Gram Panchayat to another – Surrender Certificate
In case of transferring from one Town or Gram Panchayat to another – Ration Card of the previous residence
For Govt/Semi Govt Personnel – Certificate of residence address and number of members by Institutional Head
For people working in  Registered Industrial Institutions –Residence certificate and number of members by Institutional Head or Reporting Officer
For students in Urban Area – Certificate for taking education and residential address by Institutional Head

2 passport-sized photograph of Family Head

Income Certificate and in some cases PAN Card is also required
Ration Card Jharkhand Apply online 2019-20
To get a new Ration Card in Jharkhand follow the process given below.
1. For issuance of a new Ration Card in Jharkhand, Visit the Official Portal
2. Click on Online Services ( ऑनलाइन सेवा ) form the menu bar
3. Navigate and choose "Online Application" from Submenu. Follow the image provided below for reference.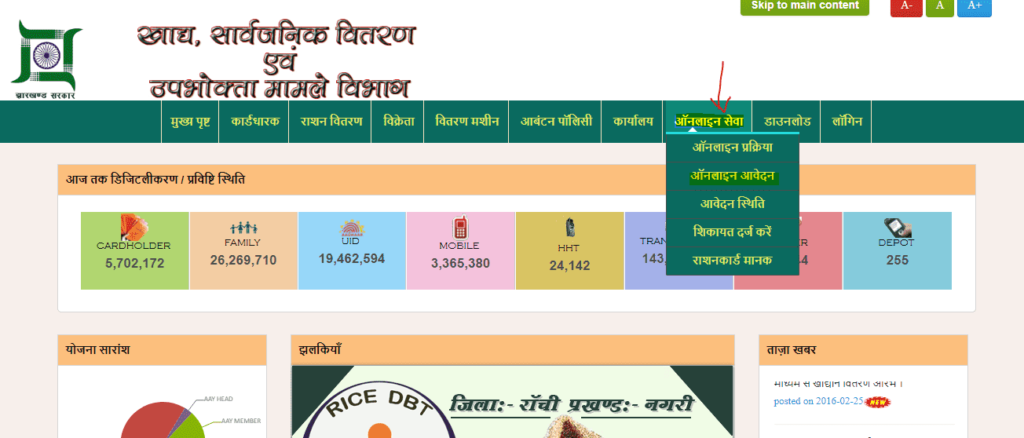 4. It will take you to the "Ration Card Management System" portal, See the instructions and click on the "Proceed" button.
The Ration Card Management System can be used for these purposes –
A) To change your Ration Card Dealer – डीलर बदलना
B) Adding a family member to the Ration Card – परिवार के सदस्य को जोड़ना
C) Removing a family member from the Ration card – परिवार के सदस्य को हटाना
D) Change or correction in the name – नाम में सुधार करना
E) To change the type of card – कार्ड का प्रकार बदलना
F) To change/update the mobile number – मोबाइल नंबर में सुधार या परिवर्तन
G) To update or change the submitted bank account number – बैंक अकाउंट नंबर में सुधार या परिवर्तन
H) Modify or update UID – यूआईडी में सुधार या परिवर्तन
I) Ration card Surrender
J) Change your Mukhiya
K) To apply for a new Ration Card
5. Choose "apply for a new Ration Card" from the option available in the drop down and click on Submit Button. Refer to the image given below.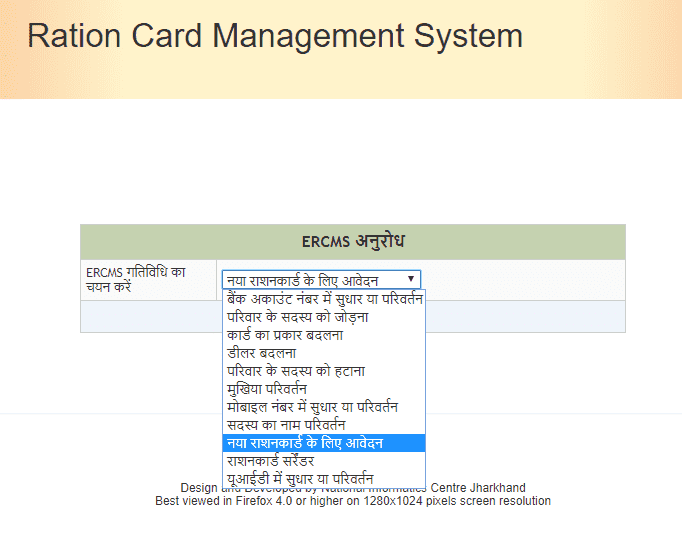 6. In the next page enter your mobile number and click on proceed button. An OTP will be sent to you for mobile number verification.

7. In the next step fill out all the applicant details correctly. So fill it correctly and then attach the required documents along with the application form and then click the "Ok" button.
8. Upon submission, the applicant will receive an acknowledgment number as a confirmation, the acknowledgment number has to be noted for further reference.
9. Now, your application for a new Ration card in Jharkhand will go to the Block Supply Officer. So, it's your duty now to print the Ration Card application form you filled online and documents and submit it to the Block Supply Officer and get the receipt from the office.
Your Ration Card application status can be tracked using the acknowledgment number you have received after filling the Ration card application form.
Ration Card Status Check online for Jharkhand
After applying for the ration card, you need to check the status of your Ration card. To do this in Jharkhand follow the step provided below.
1. Open the official portal. The direct link is also given at the bottom of this article. Navigate to "Online Services" -> "Application Status"
2. In the next step enter either ration card number or acknowledgement number. After that enter the mobile number and choose the purpose or activity from the drop down.
For example, to check your newly applied Ration Card status you need to enter the acknowledgment number, enter the mobile number and then choose "Application for new ration" from the dropdown.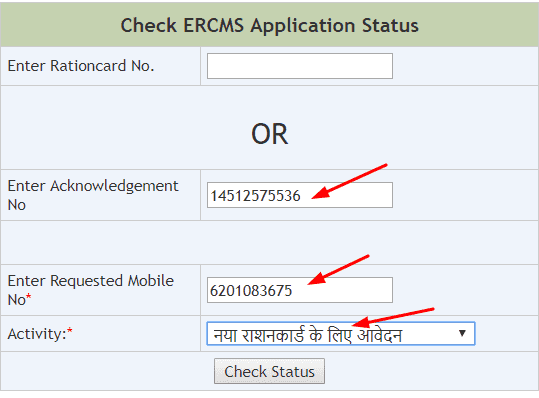 Ration Card Details Check in Jharkhand
To check the Details of Ration Card in Jharkhand you need to follow the steps provided below.
1. Visit the official website and click on कार्डधारक (Card Holder) option form the menu. refer to the image given below.
2. Choose Ration Card details ( राशनकार्ड विवरण ) from the submenu
3. In the next screen enter the relevant details like district, block, village, card type and click on the "Submit" button.
Once the ration card status is approved then the ration card will be issued in 15 days from the date of application.
Search Your Ration Card Online
To search for your ration card details so that you can very the member and their details. You need to go to "Card Holder" menu and then navigate to the "Find your ration card" submenu. Click on it.
After clicking you will get a page like this. Enter the complete details like District, Name, Father's name, Ration Card number. Choose your Block and dealer and click on the "Submit" button.
A new page with all your Ration Card details will be shown to you.
Benefits of Having a Ration Card in Jharkhand
If you hold a Ration Card in Jharkhand then you can easily avail these facilities –
Food Products at Cheap rate like Sugar

Grains at low cost like Rice and Wheat

Kerosene at a subsidized rate

Edible oil at affordable cost

Low-cost LPG
You can also use your Ration Card as a proof of identification while applying for Domicile Certificate or Voter ID card.
Ration Card Jharkhand Complaint Management
If you are facing some difficulties with your ration card in Jharkhand then you can use the steps provided below to file a complaint online.
1. Open the official link of Ration Card Jharkhand complaint and follow the steps to raise a new complaint
or
Dial toll-free number 1800-212-5512 or 0651-7122723 or 0896-958311
Jharkhand Ration Card – Important Links
| | |
| --- | --- |
| Purpose | Links |
| Ration Card Jharkhand Official Website | Visit here |
| Ration Card Jharkhand Online Apply 2019 -20 | Not applicable |
| Ration Card Jharkhand Status Check | Check Now |
| Ration Card Jharkhand grievance registration | Follow it here |
| Ration Card Jharkhand Application Form | Do it online |
| Ration Card Jharkhand consumer helpline number | 1800-212-5512 |
| Ration Card Details Check | Click Here |